We are not talking about replacing the mint in your mojitos with green beans. But to make a zen stay, organic, personalized so that there is a before, and an after "Shambhala". Which in Sanskrit means: "place of peaceful happiness". In Indian legend, the Shambhala is impossible to locate on a map, since it is accessed only by the mind. But we located it in the Maldives on Coco Island and in Maalfushi.
The concept
The Como hotels base the well-being of their client around an Ayurvedic concept. You are no longer a client at rest, but a patient who will be purified from stress and re-energized thanks to holistic experts and Déesse Nature. From Indian tradition, Ayurveda (science of life) is the oldest medicine in the world. In summary: there are in each of us three forces called, "Doshas": Vata (air), Pitta (fire) and Kapha (earth and water). One of them dominates us and determines our constitution and our character. If your dominant Dosha is disturbed, your body will suffer from dysfunction, insomnia or stomach upset.
During your first Ayurvedic interview, the doctor establishes your Dosha through the analysis of your pulse and an elaborate questionnaire.
A precise and totally personalized program follows: detoxification and regeneration thanks to a rigorous diet, massages and / or meditation. The prescription is often surprising. For example, Vata people should not overuse spices or frying, while Kapha will replace the nap with yoga! Vote Vata….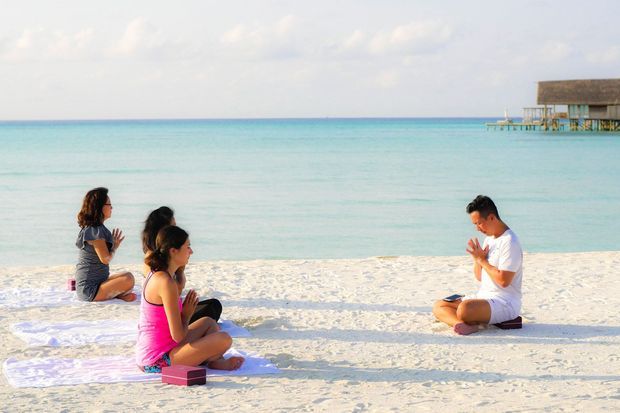 The five-point method
The secret of Como Shambhala massages
They are varied! The massage menu is more extensive than that of the restaurant. If you have mishandled your snorkeling in full sun, ask for an Aloe Vera massage to calm the fire on your skin. Better yet, if your sunsets are violent, the hotel's sentries will go and collect fresh ones for you, and have you take a bottle of the precious gel to your room. Start with the one hour massage with essential oils of lavender, geranium, bergamot. Facing the lazy lagoon. You entrust the expert with your points of tension (back, cervical, lumbar …) and he will make you tailor-made with reflexology. After 35mn, your eyelids will be heavy and your mind tempted by heavenly sleep. It will be time to attack the next day, the "real" Como Shambhala massages where you can draw among the exotic names:
– Pizichili therapy for the perpetually stressed
Hot herbal oil is continuously circulated throughout your body. Combined with a soothing massage to counteract stored stress all year round.
– The Shirodhara Treatment to complete a project with a clear mind
You are poured a regular flow of herbal oil on the forehead and on the famous chakra point. (between the two eyes). This deeply soothing practice, preceded by a massage with floral oil, calms the mind, the senses and improves mental clarity.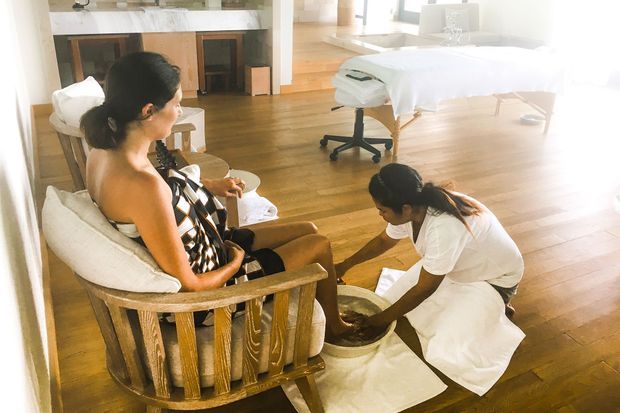 – Swedana fluid if you're stiff as a broom
Herbal steam is used to improve body circulation and detoxify you through the skin. It relieves stiffness in the body, loosens muscles and clarifies skin tone. You can also choose mud masks all over the body, a rhythmic massage with hot vegetable oils and plant powder specific to your Dosha.
– The mighty Taksu.
Developed in Bali, this massage is an invigorating treatment that increases blood circulation and helps relieve tense muscles and headaches. A fantastic antidote to deep stress patterns.
Dare the glamorous diet!
Light as a feather after a cosmic massage, you have to keep your chakras flush with the lagoon. You are in Coco Island. The exotic wood restaurant, placed on the silk of the sand, is crossed by the surrounding turquoise. You ask for the menu. Local, Maldivian cuisine, fish and crab curry, fruity and gourmet desserts. But another Como Shambhala card reminds you that you are also there to ensure your Ayurvedic retreat. Don't panic, we're a long way from dry chewable oatmeal. Their menu is surprising in terms of finesse and flavors. Vegan and gluten-free dishes combine steamed fish from the lagoon and lobster carpaccio colored with crunchy and spicy vegetables.
The tuna tartare sown with sesame seeds, placed on a generous nest of spirulina pasta, will reconcile you with healthy cuisine.
Como believes that healthy cooking can and should be both delicious and nutritious. It therefore focuses on a perfectly calibrated blend of raw and cooked ingredients, with very specific nutritional goals. What purpose ? To increase focus and energy, and to balance your blood sugar levels! Living enzymes are preserved through preparation techniques to cleanse your body and calm your metabolism.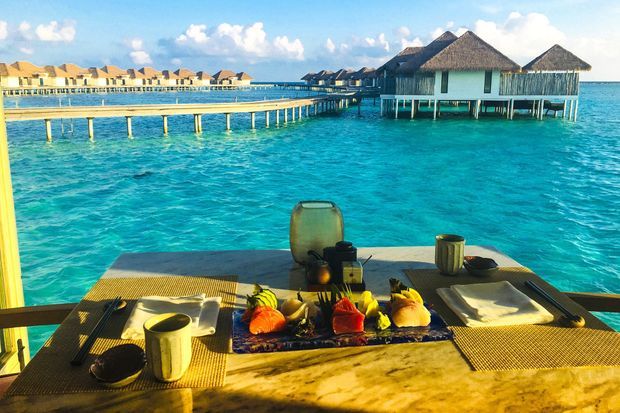 Nantanit Juljorhor, 43-year-old Thai chef who is 30 years old, proves that his cuisine is a potion of youth: "I want our concept of cooking to be a memorable experience for customers, that they leave with the desire to continue this food "care" once back in their urban jungle "
On the other island, at Como Maalifushi, you have to swim at the Japanese TAI restaurant! Local seafood caught a few hours before the meal. Graphic sushi, pot-bellied sashimi, green fish eggs and no coloring !! The plates are mounted like works of art because taste and sight are intimately linked here. Wherever you put your five senses, the goal is to whisk you away to Nirvana. All served in sober and organic Japanese dishes. The TAI is placed on stilts, and in the evening, in the "central square", sharks and rays come to collect food scraps. Marine life in the Maldives is a discontinuous sharing and cycle.
Be luxury Robinson!
On Maalifushi Como Hotel, you have opted for the beach-villa. A room buried in lush greenery. With personal swimming pool under the stars, sublimely numerous in this remote corner of the planet.
On Coco Como Island you are Robinson in a luxurious wooden cabin on stilts.
You are surrounded by the crystal of the gods. Emerald invites itself into every corner. The staircase from your terrace does not lead to the cellar but directly below the surface into the coral garden. Under your floor, rays, jacks and sometimes reef sharks, shy, stealthy, so perfect in their lines …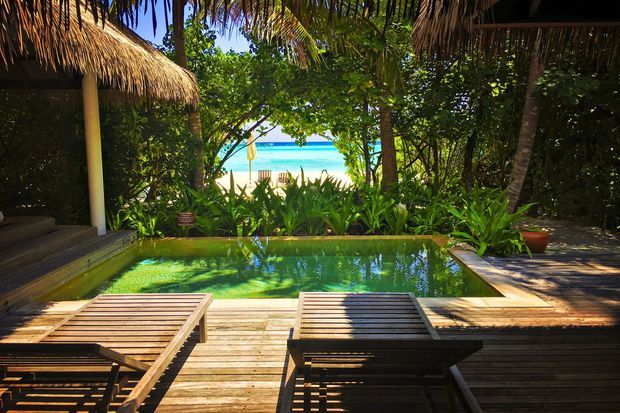 Eat, but move! Each lodge is equipped with a snorkeling kit and a coral fauna manual. Go down the three steps and complete the contemplative and sporting "Ayurvedic clause". A few strokes of the fins, one of the most beautiful aquariums in the world fills your mask with aquatic diamonds. Clown fish in love with their anemone, flying turtles, turquoise freeing itself in navy blue to let your mind go and dream in the abyss.
You are nothing more than lightness and marine sensuality. Your body unwinds in a hydraulic therapy that you are no longer even aware of, since your chakras are overwhelmed by the beauty of the lagoon. Perfect zenitude wins you over and will prowl without downtime around your "cabin" at the end of the world …
Yoga in room service!
So there, hang on! Forget the hippie yoga teacher with Indian braid hanging out on the floor. Here is the teacher with the cry name who kills: Lee Yinn Chew! It is he who at 7 am will put you back on the right path of ying and yang energy. Hatha yoga, Anusara, Iyengar, Rayburn, Yin Yoga, medical Qi-gong … He studied all of this with the greatest international masters. He is above all a specialist in restorative yoga.
The session begins with a "check-up". At a glance, it will decode your carcass deconstructed by a too toxic active life. He adapts his course to each student. You will rarely be more than 5. It will be haute couture, but not easy. He pushes you hard because he knows that after the course, you will rush to the "royal healthy breakfast" and its Wellness Juices: "green clean", "stress reliever", "blood of the earh" "vital veg". You can also fall for the Maldivian'eggs: poached eggs in coconut curry sauce… Enough to smoke your abs on the lagoon! Even the sunset cruise is Ayurvedic!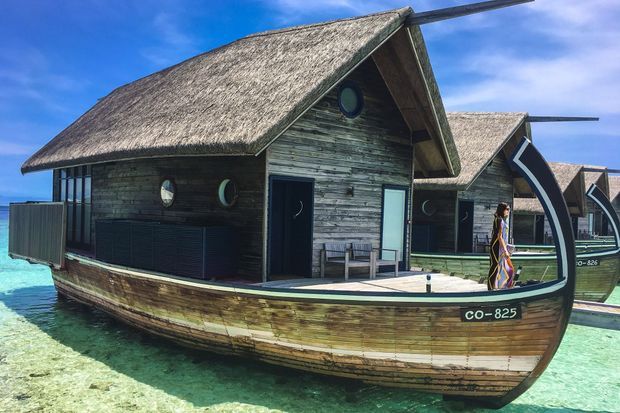 Even though it will be difficult to leave your room, so much in itself is an oasis of Asian calm and addicting comfort, it will also be impossible for you to resist the embrace of the blazing setting sun. Especially on a yacht! And in addition with champagne (there are grapes in champagne so it's healthy!) In addition, with dolphins!
After an "exhausting" day of yoga, Ayurvedic treatments, Spa sessions, freediving in the lagoon, readings in your swimming pool, in cases made of lobsters with ginger, the time is now for the contemplation of our falling star.
Dozens of dolphins join you around the boat. They bounce their fins against the light and transform the lagoon into a painting of ink and light. It could belong to the Asian brush of artist Lumi Mizutani: "I let myself be carried away by the whims of the water, by this material which floats, penetrates and then devours the support. »The Maldives, Beauty that engulfs …
Practical Guide
Como Cocoa Island
It is the ideal hotel for an authentic retreat away from the world. The island is small, uncluttered, and virtually untouched. A single restaurant, exceptional, without violent and parasitic music. No "Ibiza" evening here.
Only beauty, calm and nature. The only risk, to come across noisy neighbors or festive offshore boats that will sometimes remind you of civilization.
Como Maalifushi Hotel
The island is larger and therefore more "loaded" with dwellings. But also more suitable for families because the activities are more numerous, and the restaurants varied. Fishing, surfing, excursion to observe whale sharks etc …
On this island, we travel by bicycle. Each villa has as many bikes as there are clients. Less intimate than Cocoa Island, the beach villas are so floral that you forget the neighbors, while having a dazzling view of the lagoon thanks to a happy hole in the foliage.
These two hotels have their own diving clubs. Do not forget your level cards, and your medical certificate so that everyone can dive serenely.
Precautions
Be careful, sunburns are extremely ferocious in a lagoon. Mainly because of the mirror effect and the clarity of the water. Bring a lycra for snorkeling and sunscreen (choose there, non-toxic for wildlife, otherwise "coral dies" …)

If the airline loses your suitcases for the entire stay (yes it does happen …) Como will provide you with a sarong, a T-shirt and a toothbrush. On the other hand, it is in their luxury boutique that you will have to equip yourself with a swimsuit at 170 dollars and sunscreen. And ladies, no hairbrush on the island. Plan in your cabin baggage, at least one swimsuit and three emergency items …

The Maldives being at GMT + 5, add 4 hours in winter and 3 hours in summer compared to metropolitan France. But the country is so large that some atolls are located in a different time zone than that of Male. It is therefore essential to put your watch on the time of the island-hotel in which you are staying. This shift can be an hour or two.

The sun rises at 6 a.m. and sets at 6 p.m. all year round, on a regular basis. With the Maldives on the equator, there is a good balance between day and night.

In the island hotels, everything works almost without interruption. But in Male, Friday and Saturday are days off. However, shops frequented by tourists usually only close on Friday mornings for prayer. Otherwise, they are permanently open from 8:30 am to 10 pm.

Avoid taking photographs of official buildings in Male. Do not take pictures of worshipers praying and make it a habit to always ask for the consent of the person you wish to photograph.

You can drop off your postcards at the reception of your island hotel, which also sells stamps. They will take ten days to reach their recipient.

Satellite communications are easy. Almost all of the island-hotels have the international connection that can be obtained directly from your room. Communications with foreign countries are expensive; count between 4 and 5 US $ per minute.

All the island-hotels have computers that allow you to use the Internet to receive or send e-mail. There are several cyber cafes in Male.
To not forget
Muslim culture imposes certain rules; scruffy outfits are frowned upon by the population. Nudism is strictly prohibited and punishable by a heavy fine. Naturism and monokini are also prohibited and punishable by heavy fines, even on the island-hotels. On excursions, women should wear decent attire, avoid necklines and overly transparent clothing. Men will replace the mini-shorts with pants or Bermuda shorts.
Either because the boat trip is too long, or because you fancy an overview of the archipelago, with magnificent views of the Atolls, you may have to use a Maldivian seaplane. These machines only fly during the day for safety reasons.Be aware of the weight of the luggage, which is sometimes limited to 20 kg. It is also possible to charter them for the day, for an excursion, or if you combine several islands.
Kuoni Emotions offers a stay of 8 days / 6 nights from 4.470 € TTC per person (base2), combining 3 nights at the COMO Maalifushien room with garden view and 3 nights at the COMO Cocoa Island in the Dhoni room suite in Cocoa with breakfasts, flights to direct flight from Paris. The transfers. Variable taxes. The Emotions Reception services and the "Travel Information and Assistance at destination" services. Price example for a departure on November 03, 2018.