Between tradition and modernity, Yangon and Myanmar in general remains a mysterious country. For a long time "closed", therefore little known, its recent opening (2012) towards a process of transition remains fragile. And violent. This is evidenced by the crackdown on the Rohingya people, for which the ICC has just authorized an international investigation into the authorities' alleged crimes against the Muslim minority. It is in this context that demanding tourism is developing which can allow this country, with its immense cultural wealth, to climb to the top of the most popular international destinations.
The festival of lights
To immerse yourself in Burmese culture, what better way than to go there during one of the most emblematic festivals, the "Thidingyut". This so-called festival of lights marks both the end of Buddhist Lent and the monsoon. In mythology, it was during the full moon of "Thidingyut" that Buddha came down to earth. This gives rise to three days of festivities: the day before, the day and the day after the full moon. On this occasion, you are a spectator of a fairyland of lights that adorn the houses and pagodas. That evening, the place to be in Yangon is the 2,500-year-old Shwedagon pagoda, the most beautiful in the world and the largest too, in any case the place at the heart of Burmese Buddhism and religious life. and social of the country. It would contain eight Buddha hairs.
All the superlatives have been attributed to him. It inspired many Western writers including Joseph Kessel, Cocteau and Pierre Loti. It is accessed by one of the four covered staircases after removing your shoes. We will have to put a handkerchief on our Western habits and ignore hygiene in this country where chewing betel and spitting on the ground is a national sport.
The festival's magic
"Wow effect" assured when you arrive at the top of the stairs that you climb at the end of the afternoon under a blazing heat (felt 40 °, humidity 80%). You discover the breathtaking spectacle of this central Stûpa 98 meters high, covered with two tons of gold, a forest of small pagodons and shrines, lost in the middle of a crowd of the most colorful .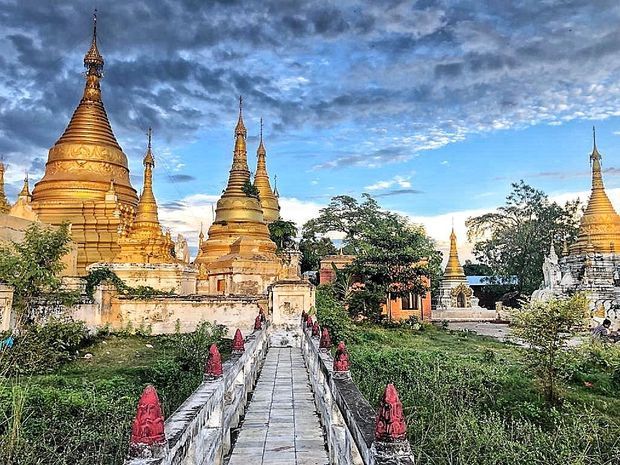 Everyone has put on their best clothes:
a white collarless shirt for the men.
longyi, a long, high skirt that hides the shoulders for the ladies.
Women and children have their faces more or less covered with Tanaka, this yellowish paste, derived from the tree of the same name, which has refreshing properties, protects from the sun, and even has anti-wrinkle effects. The atmosphere is anything but solemn, unlike places of worship in general. Young monks take selfies, teenagers seem to be breaking free from tradition, mothers with their babies crawling on the ground, couples, elderly people, and finally quite a few tourists…
Ceremonial costume are just something else
Processions follow one another with characters in ceremonial costume who are followed by walking in a clockwise direction. As the light dims and turns pink, the show becomes more magical and we begin to light thousands of wicks that raise the outside temperature a notch and draw fiery paths. Some prostrate themselves at the feet of the buddhas, others make offerings, in certain corners a meal is shared, gongs sound. Many wander in groups and will stay until the end of the night in perfect communion in what looks more like a place of life than a place of worship.
The spectacle becomes more magical and we begin to light thousands of wicks, it raise the outside temperature a notch and draw fiery paths. Some prostrate themselves at the feet of the buddhas, others make offerings, in certain corners a meal is shared, gongs sound. Many wander in groups and will stay until the end of the night in perfect communion in what looks more like a place of life than a place of worship.the spectacle becomes more magical and we begin to light thousands of wicks which raise the outside temperature a notch and draw fiery paths. Some prostrate themselves at the feet of the buddhas, others make offerings, in certain corners a meal is shared, gongs sound. Many wander in groups and will stay until the end of the night in perfect communion in what looks more like a place of life than a place of worship.
Full Moon Day
It is the high point of the festival of lights. It is in Mandalay, at the Kuthodaw pagoda which houses the largest book in the world, with its 729 marble stelae engraved with the teaching of Buddha, that we attend a procession from 6:00 am, during which 3,100 monks come receive the offerings from the pagoda and its donors. The Buddhist religion is the religion of merit and demerit. So we spend our time doing actions to redeem what we have done wrong, or to gain merits. Thus some kings have built huge or innumerable pagodas to be forgiven for having murdered members of their family; as in Pagan. It's as simple as that. More modestly, offerings,money is proof of this in these huge transparent urns full of banknotes in front of each pagoda or statues of Buddha. So many actions to acquire these merits. This is how pagodas live.
A parade without interruption
Lines of bonzes in dark red dresses going to orange and a parade without interruption for hours. We participate in this distribution, almost intimidated, in front of so much discipline and control, especially from the youngest who are sometimes barely 7 years old.
Monks by age groups gather in the recesses of this immense pagoda, discuss, joke like young people of their age and even smoke, this is however forbidden in religion. Dropping mosquitoes is put forward as an argument to justify what might appear to be a failure. Some of them give you a shy smile and we even manage to strike up a little conversation in perfect English with two of them,aged 14 and 17. They tell us with great maturity that they want to become doctors. An ambition that the monastery will allow them to carry out, them that their poor family could barely feed. It is thus, through religion, that part of childhood is saved from misery.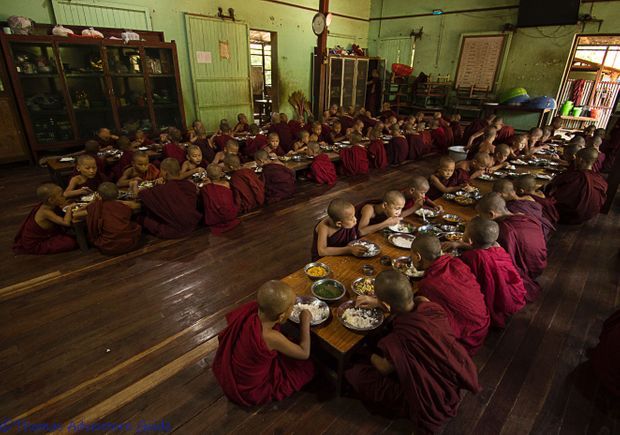 At nightfall, on a full moon day, we went to Mandalay Hill, a hill 224 meters high. From Sutaungpyei Pagoda the view stretches across the entire Mandalay plain. This is where you can admire the moon in all its fullness. In the pagoda, beds of candles are lit, forming incandescent designs, in front of a crowd of onlookers. For hours, the crowd rushes to share this celebration. Many come from far and wide and will sleep outside under specially constructed bamboo shelters.
Yangon: a city in turmoil
Yangon (Yangon) is the largest city in the country, although they dethroned it from its status as administrative capital in favor of Nay Pyi Daw, in the center of the country. It remains so from an economic point of view. It has everything to seduce, with its mosaic of populations: Burmese, Chinese, Indians, Thais… but also its architecture, with more than 3000 British colonial buildings. They sacrificed some of these buildings in the name of real estate speculation. Others are in very poor condition, or undergoing restoration.
Take an exciting walk with the Yangon Heritage Trust in the Old Town. This Burmese non-governmental organization tries to preserve and organize this rehabilitation, to advise the provincial government, the developers and the inhabitants, on the tourist value of the urban historical heritage of the city. Other foreign players are working in the same direction. This is how the Prince of Wales through Turquoise Mountain, an NGO born in Afghanistan a few years ago, and which is investing in Burma, and in Yangon in particular, to restore magnificent buildings, but also to promote the 'high quality local craftsmanship.
Yangon: Yellow and green
We visit their latest achievement, made in agreement with the local authorities: the Tourist Burma Building, located in the city center, opposite the Sule pagoda, and which has resumed its colors of yesteryear. Yellow and green, and now offers high-tech services for the installation of offices. From its huge terrace you have a breathtaking view of the entire city center and the golden Stûpa of the pagoda. Huge construction sites are emerging, such as that of the Secretariat. This colossal building, with its red color, housed the government administration. It was the scene of the assassination of Aung San Sui Kyi's father.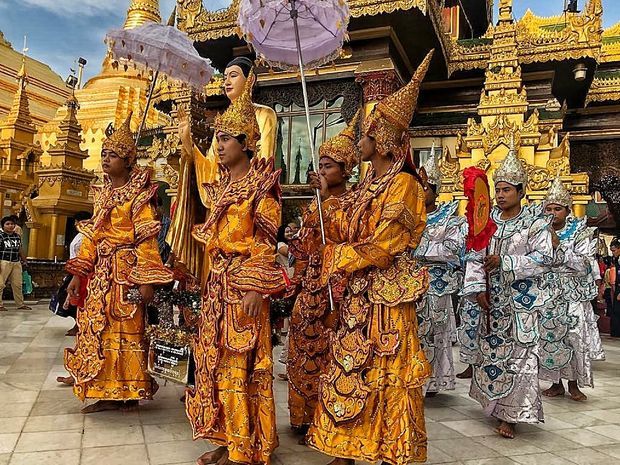 The luxury hotel industry plays its part in the renovation of old buildings. Thus the Excelsior Yangon, a former bank, has undergone a magnificent renovation. It is in the top three of the most beautiful hotels in the city.
Yangon's deveoppement
Many Burmese are involved and concerned about the development of their city, but expatriates are at the origin of original initiatives. This is how we meet Delphine Delorme, a Frenchwoman who has been living in Yangon for twelve years. This Parisian working in audiovisual production has made a radical choice; she moved to Burma with her family and does not regret it. From now on, this entrepreneur who is in the artistic direction of Yangoods, is part of the association "Clean Yangon Foundation". It cleans the unsanitary streets of the city center, a sort of open dump infested with rats.
Delphine Delorme who is also a painter creates murals. It also brings together Burmese artists who participate in this enterprise and enhance the urban landscape. We accompany him in the streets of downtown. Its walls look like hanging gardens thanks to the humidity and the ambient heat; we can still see some rodents. Thanks to this kind of initiative, the inhabitants regain possession of their environment; the city became a place where life is good.
The trendy Yangon
We find in Yangon very good restaurants and Tea Houses that have nothing to envy to some coffee shops in East Village in New York. Like the Yangon Tea House, a sort of chic and trendy brasserie with a colonial atmosphere; it serves Burmese cuisine revisited using regional products. We enjoy a wonderful biryanis or other curry there. The owners are young Burmese. This couple studied in London and understood that the recipe for success was both the enhancement of tradition mixed with a dose of modernity. They are in the process of opening a dozen restaurants; these will cater to a clientele that is half Burmese, half expatriate.
Burmese Ducasse of Yangon
Sharkys or Ye Hiut Win of his real name has airs of Giorgio Armani: waxed jeans, white t-shirt and tanned complexion. It is in the kitchen that this Burmese exercises his art. This colorful character is perfectly French-speaking since he studied in Switzerland. He first held a kebab there, even ran a nightclub, before returning home. Suffice to say that we are dealing with a jack of all trades. He is at the head of a gastronomic empire: 350 employees, 4 restaurants and also a beach restaurant in Ngapali. It also provides a number of restaurants and hotels in the country.
Perfect for events
He also works in events. He prepares VIP breakfasts, champagne, cold cuts, cheeses and eggs cooked at 4.30 am; Sharkys does it in the plain before the hot air balloons take off above the temples of the Pagan plain. His credo is from farm to fork. So he became a farmer. He has a 20 hectare vegetable garden where he grows aromatic herbs and organic vegetables. He raises 3,500 chickens that we would die for. You have certainly never tasted such poultry. The secret is also in the cooking. He is very proud to tell you that he has invested in a rotisserie at 20,000 euros, "the price of a car" he says.
When we know that the average salary in Burma is 80 euros per month … He also makes olive oil and Camembert, which Normandy would not be ashamed of. And even reblochon with truffles. He learned to make cheese in Gstaad. He just apologizes for importing the truffle from Italy. At the table, we are at the top of the range; everything is absolutely delicious, even the dressing of the plates is perfect.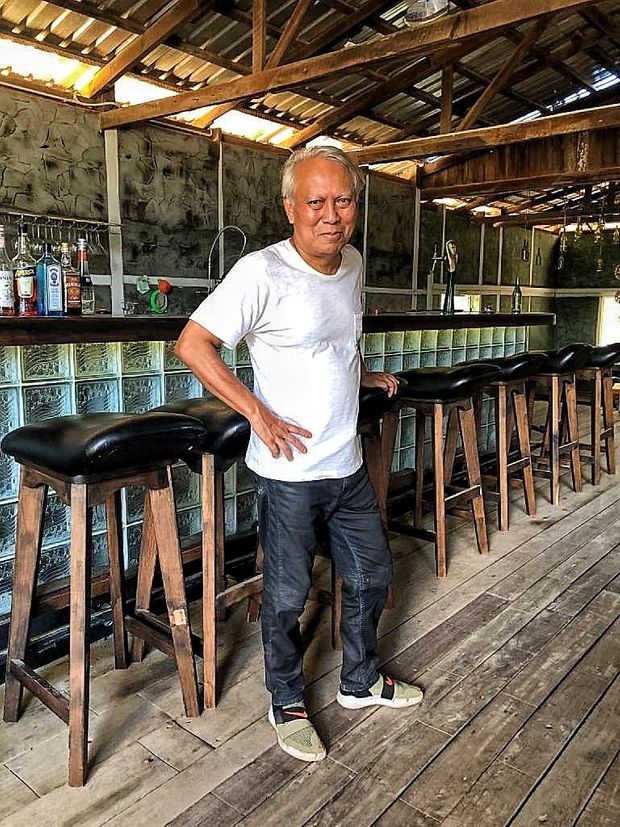 But by the way, Monsieur is also a juror on the Masterchef program in his country. We realized that we were dealing with a communication professional.
Go
Asia, specialist in tailor-made travel in Asia and Burma, offers a 13 days / 10 nights private tour "Myanmar Buissonnier"; you get to discover the country off the beaten track, from € 3,624 incl. Tax per person in a double room and breakfast. This price includes return flights on Singapore Airlines, private transfers, excursions by private car with driver and English-speaking guide, domestic flights, as well as Superior category hotels (including the Excelsior in Rangoon and the Tharabar Gate in Pagan. And also the Salay House Burma. With supplement, stay at the Strand: from 219 € per person in double room).